The Putting Doctor® System, HOW TO PUTT WELL©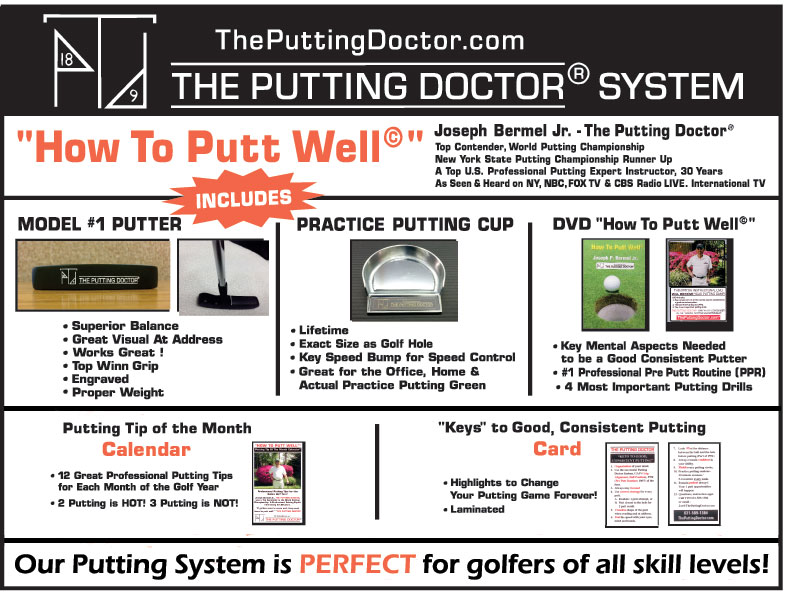 1. Model #1 Engraved Black Putter. Balanced, Terrific visual at Address. Top grip. Works great!
2. Silver Engraved Practice Putting Cup. Lifetime. Same Size as golf hole. Speed bump for distance control. No battery or electric needed. Great for home, office & practice green use!
3. DVD, "How to Putt Well"©, Vol#2. Learn the mental aspects needed for good consistent putting. #1 Pre Putt Routine (PPR)
4. Putting Tip of the Month Calendar ©. 12 Top Professional Putting Tips, one for each month of the Golf Year.
5. "Keys" to Good Consistent Putting Card. Special keys all golfers need. Wallet size.
6. The 4 Most important Putting Drills Card

Top USA Professional Expert Putting Instructor
Top Contender, World Putting Championship New York State Putting Championship, Runner Up (Playoff)
Golf Teaching Professional, USGTF Member (United States Golf Teachers Federation)
Top 8 USA Professional Putting Instructor, teaching 33 years
As seen & heard on major United States TV & Radio LIVE, International TV
Performed The Putting Doctor® Road Show at major cities Golf Shows/Expos, on the Golf Celebrity Stage accross North America for many years
The Putting Doctor® PROVIDES: The Tools To Score Well. The Short Game. Putting, Pitching, Chipping, Greenside Bunker Play. We teach golfers...HOW TO SCORE WELL!© Individual/group instruction at our outdoor/indoor Short Game Teaching Facility. The Putting Doctor® ROAD SHOW for Corporate Events. Gift certificates available.